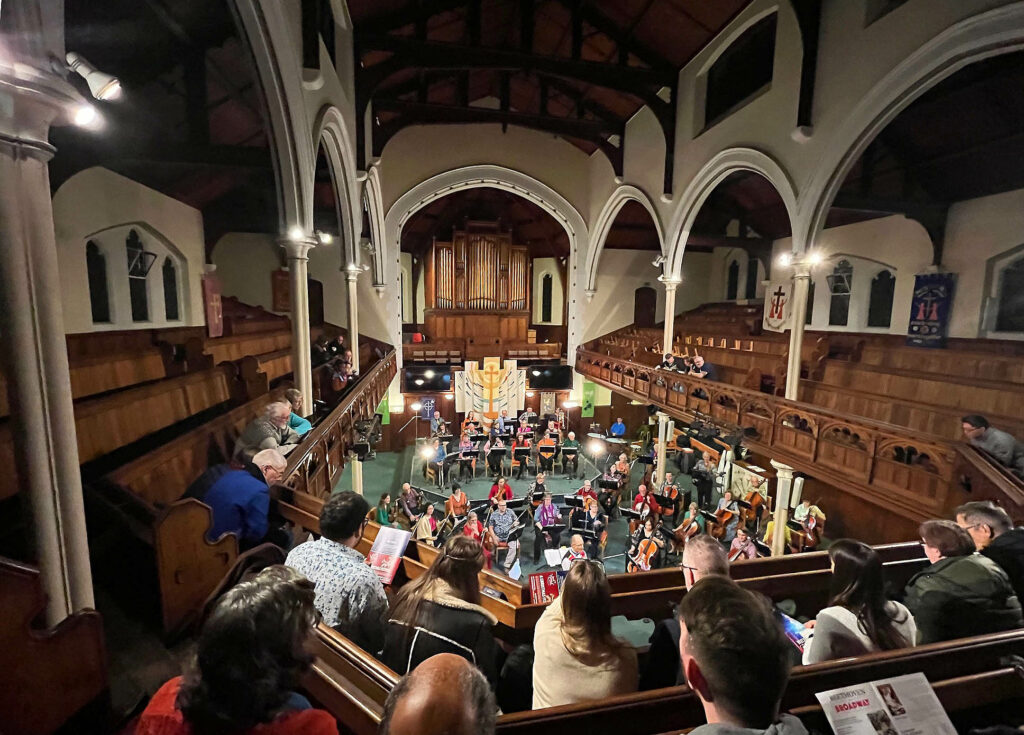 Welcome to Clarendon Park Orchestra
The Clarendon Park Orchestra is a friendly, adult amateur community orchestra based in Leicester. It was originally founded by Anne Dixon in the mid 1990's and since 2015 has expanded considerably to become a full size Symphony Orchestra of 50 players.
We aim to give musicians the opportunity to play and perform classical & more contemporary popular pieces in a friendly and sociable environment. Whilst we strive to always improve our playing and individual skills we also believe that playing music should be fun with more emphasis on the rehearsals than public performances.
We welcome new players from the more experienced, those that maybe wish to revive old skills and those who have begun to play more recently (Grade 5 as a guide) but not beginners please. There are no formal auditions. All that we ask is that you can cope with the music, feel reasonably comfortable sight reading and are able to regularly attend rehearsals.
As I'm sure you can appreciate we need to balance the sections within the orchestra and currently we would like to expand the following sections:
Strings, especially Violins, Violas, and Brass.
So if you are an adult, play an instrument in the above sections and are interested in playing with The Clarendon Park Orchestra please get in touch. We can then confirm that our rehearsal schedule has not altered and hopefully you can pop along and join in one of our rehearsals.
If you play another instrument please also get in touch and we can keep you notified if vacancies arise.
A small subscription is payable of £30 per term (£20 concession) which helps to cover our venue costs.
Our Music Director and Conductor David Calow is renowned for his expertise with a number of local orchestras and ensembles including conducting the Bardi Symphony Orchestra, Bardi Wind Orchestra, Rutland Sinfonia, Warwick Orchestral Winds and Musicamici wind ensemble.
We meet on a Friday evening every fortnight from 7.00p.m. to help set up & warm up with rehearsals starting at 7.30p.m. until 9.30p.m. at Christchurch Baptist & Methodist Church Hall, 105a Clarendon Park Road, Leicester LE2 3AH . Please see our Rehearsal Dates & Contact Pages.