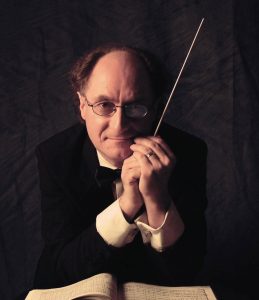 David Calow was born and educated in Leicestershire, receiving his early musical training from the Leicestershire School of Music. He played flute and piccolo in The National Youth Wind Orchestra from 1978-84, under the baton of Harry Legge, a renowned expert on the Symphonic Band repertoire. David is now Creative Director of CalowCraddock design and Illustration studio in Leicester. On returning to Leicester after Art College, David founded the wind ensemble 'Musicamici', which he has conducted for over 30 years.
David now divides his musical life between conducting, teaching the flute and playing flute and piccolo with the Bardi Symphony Orchestra and the Trio Tea for Three with Marguerite Beatson, piano and Robert Calow clarinet.
David was appointed Music Director and Conductor of the Clarendon Park Orchestra in January 2015 and is enjoying working with and encouraging a growing group of enthusiastic local musicians.
In 1995 David was appointed Music Director of the I.D.O.L.S Operatic Group in Leicester for their Little Theatre production of South Pacific. Over the following ten years he directed Seven Brides for Seven Brothers, Oklahoma!, The King and I, Guys & Dolls, Mack and Mabel, Anything Goes and Kiss Me Kate. David also worked with the production team and cast on 3 original shows and the critically acclaimed Little Theatre premiere of The Best Little Whore House in Texas. He has also directed full productions of Jesus Christ Superstar and Godspell.
David became Music Director and Conductor of the Bardi Wind Orchestra in 1996. The Wind Orchestra now has an enviable reputation performing at major fund raising gala concerts each year at De Montfort Hall and the Christmas Festival concerts at Holy Trinity Church on Regent Road in Leicester. The Wind Orchestra has also performed at the first four Bradgate Park Prom concerts to great acclaim.
In 2007 David was appointed Associate Conductor of the Rutland Sinfonia. He has continued with Music Director Paul Hilliam, to develop the adventurous concert programming for the Sinfonia with performances of the rarely heard Horn Concerto by Franz Strauss, a Scandinavian programme featuring Nielsen for the first time and a completed version of Schubert's "Unfinished" Symphony by Professor Brian Newbould. The 35th Anniversary Season saw David conduct the East Midlands premiere of Prof. Newbould's realisation of Schubert's seventh symphony. Other works included the Tuba Concerto by Vaughan Williams and a rare performance of an authentic 19th century version of Mendelssohn's E minor Violin Concerto in an arrangement for flute.
The last five seasons have seen David conducting a series of highly successful and very different concerts for the Rutland Sinfonia which featured Movie Music, Broadway and West End blockbusters to large and enthusiastic audiences in Oakham.
Recent years have also seen David increasingly in demand as a conductor elsewhere working with the Bardi Symphony Orchestra wind and brass, Warwick Orchestral Winds and The University of Leicester Orchestra and Wind Band.